Pastor Jeremy Vance, the current president of FGA, is a native of Wisconsin; Pastor Jeremy received his B.A. in Religion at Northwestern College in Iowa, and went on to earn his M.Div. from Phoenix Seminary. Jeremy has served as a full-time pastor since 1994 and is currently the Senior Pastor of Faith Church in Manitowoc, Wisconsin. He was ordained in the Evangelical Free Church of America in 2006. He and his wife Jill have four children. In his free time, he enjoys spending time with his family, being outdoors, golfing, camping and fishing. He also loves to draw, paint and write. Jeremy has written two books published by Grace Theology Press, Companions With Christ and his most recent publication,
John, Jesus & Me.
Pastor Scot Pollok is Senior/Lead Pastor of Faith Bible Church in The Woodlands, Texas. He grew up in a tiny little town in South Texas called Falls City, population 474. He began serving God during his college years at Texas A&M University in student ministry. After graduating from college he served as a Senior High Student pastor for five years. He went on to graduate from Dallas Seminary with a Masters in Theology from the New Testament Department in May of 2009. During his training at DTS Scot was mentored by the Senior Pastor of Faith Bible Church, Dr. Dave Anderson, as he served as Teaching Pastor under him. Shortly after Dr. Anderson retired Scot was asked by the elders to join the Leadership Team of Faith Bible Church as Lead co-pastor. In January of 2013 he became the Senior/Lead Pastor. Scot and his wife Liza, have two children, Andrew and Isabel (Izzy).
Grant Hawley is Executive Director of the Free Grace Alliance and pastor of Bold Grace Fellowship in The Colony, TX. He is the author of The Guts of Grace, Dispensationalism and Free Grace: Intimately Linked, and Easy Peasy Biblical Greek, and editor of 21 Tough Questions about Grace and Free Grace Theology: 5 Ways It Magnifies the Gospel, and also is a member of the Council on Dispensational Hermeneutics. He lives with his wife, Tamara, and his son, Rock, in Allen, TX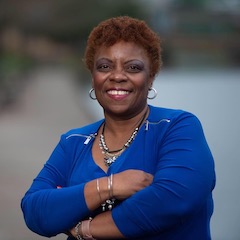 Ralene Berry is an inspirational Speaker, international teacher, certified Christian counselor ,life coach and author. She is Director of Technology Services for Grace School of Theology. She is the founder of For Him Ministries and Powerful Women of God Conferences. She has written the book "As I Encourage You, I Encourage Myself." Ralene's beautiful daughter and two wonderful grandchildren are the joy of her life
Dr. Mark Haywood currently serves as an Assistant Professor of Bible Exposition at Grace School of Theology as well as Vice President of Student Services. He is also the Pastor and Founder of God's Household of Faith in Houston, Texas. He previously served as Vice President of Student Affairs and Services, Dean of Students, and Assistant Professor at the College of Biblical Studies (CBS) in Houston. Dr. Haywood is married and has three sons and one daughter.
Ed Underwood is president and lead consultant for Recentered Group. During his career as a pastor, culminating with turning around the historic Church of the Open Door, Ed merged his leadership experience as an Army Officer and fireman with his passion for authentic church to help leaders and communities heal from wounds and toxicity that cripple vision and impede sustaining success. Ed has authored four books, numerous journal and website articles. He travels extensively, preaching, teaching, and equipping leaders, leadership teams, mission organizations and churches. Ed and Judy have three grown children and nine grandchildren.